And the Winner is, "Bernie Sanders for President." Bernie has a Big Night at the Oscars as his Endorsers from Spotlight and The Big Short Take Home the Top Honors
Hollywood, CA. February 28, 2016. "Most of all, if you don't want big money to control government, don't vote for candidates that take money from banks, oil or weirdo billionaires. Stop." These were the words of Adam McKay, accepting the Best Adapted Screenplay Oscar for The Big Short while endorsing Bernie Sanders for President in the same speech.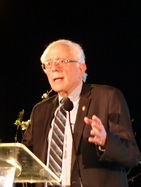 Bernie had another win at the Oscars as Mark Ruffalo and Michael Keaton, two actors who have endorsed him, took to the stage as Spotlight collected it's Oscar for Best Picture. This movie also took home the award for Best Original Screenplay.

This was also a big win for truth and justice. These movies were docudramas about what really caused Wall Street's banking and housing crisis of 2008 (The Big Short) and the Boston Globe investigation of child sexual abuse in the Catholic Church (Spotlight.) Mark Ruffalo, true to his courageous character in Spotlight, attended a protest on behalf of Catholic sexual abuse victims just prior to the Oscar show.

The writers of the Justice Gazette had predicted a Best Picture Victory for Spotlight following it's win of the Ensemble Cast Award at the SAG Awards and also a victory in the Adapted Screenplay category for The Big Short. The winner of the SAG Ensemble Award usually wins Best Picture at the Oscars. Spotlight and The Big Short are among the finest exposes of the decade and the Justice Gazette recommends everyone see both of these important movies.

Unlike his Democratic Opponent and the Republican opponents, Bernie has refused corporate and PAC contributions. He has taken no money from banking or oil or from the billionaires of Wall Street. Though McKay did not mention Sanders by name, it was clear to all in the TV and live audience that McKay was endorsing Bernie Sanders fro President. Samders has set record after record in terms of the number of individual contributions he has received and in the total amount of the individual contributions, averaging $27 a piece. Mark Ruffalo has been present at Bernie's campaign stops, introducing and praising Sanders and speaking out for his peaceful revolution. Observers are pointing out that Hillary has billionaires but Bernie has "the Hulk."
---