The People and Maduro Win Big
​
in Venezuelan Election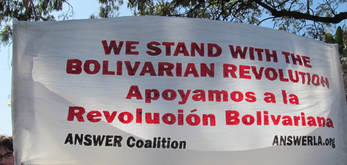 October 16, 2017, Caracas, Venezuela. What Bernie Sanders tried to do in the United States, Maduro has succeeded in doing. On Sunday, October 15, 2017, the United Socialist Party of Venezuela, the Party of President Nicolas Maduro and former President Hugo Chavez won big in the election system that Jimmy Carter has labeled, "the best election system on Earth." While Bernie Sanders and Democratic Socialism were thwarted in the 2016 Primaries that the Democratic Party claimed to have the right to rig, a populist version of tempered socialism again was victorious in Venezuela thanks to an election system international monitors and a former President of the USA have called fair and accurate.

The powers that rigged America's election against Bernie Sanders have spent extensive funds to intervene in Venezuela's elections through the years and to thwart Maduro and candidates from his party in their election bids. Despite U.S. Government interference, Venezuela's strong-willed populace and the integrity of that country's election system had proven that the people can defeat corruption and lies. Over the years, Congress has authorized extensive sums from American taxpayers' money to be spent on propaganda to mislead the Venezuelan people. The CIA and wealthy international oil cartels have sponsored protests and violence within Venezuela to try to unseat the popular government. At one point, the CIA even kidnapped former Venezuelan President Hugo Chavez. Chavez was only released because the Venezuelan people flooded into the streets demanding the return of their beloved leader.

Why, in spite of billions spent by the USA to unseat the Maduro and Chavez Governments, have the people of Venezuela repeatedly defeated the CIA's interference? It is because Maduro, like Chavez before him, has given back to the people. The people are sharing in the wealth of Venezuela's resources. That government is putting the people first and their need for housing, health care and education before the needs of foreign corporations. This is in contrast to the USA which taxes the 99% and gives the bulk of it's money to corporations and to the top 1%, who are allowed to avoid taxes themselves.

So while the CIA and Wall Street regroup for more attacks on Venezuelan democracy, the Venezuelan people are celebrating a landslide victory for President Maduro's party, which won the overwhelming majority of the seats in Sunday's election. Even in the USA, the people have stopped listening to corporate propaganda as U.S. supporters of Democratic Socialism are cheering "Viva Venezuela."
---