Obama Fails to Pardon Chelsea Manning
Manning to Endure Four More Months of Torture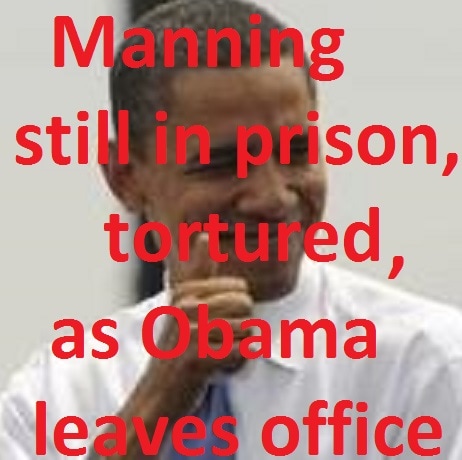 January 17, 2017. If Chelsea (Bradley) Manning is to be released, it will be under the Presidency of Donald Trump, not that of Barack Obama. While pardoning 62 other individuals, including some mobster types, today, President Barack Obama failed to pardon Chelsea Manning. Instead, he paid lip service to clemency, forcing the American soldier to undergo another four months of a sentence that has involved extreme levels of torture. At times, the torture has been so shocking that Chelsea Manning has attempted to take her own life. During the upcoming four months of torture, the full sentence could be re-instated or Manning could wind up held indefinitely (forever) under the NDAA or sentenced to death by another military tribunal. Such are the risks until the very day Manning is set free.

Julian Assange made an heroic offer in an attempt to end the torture and imprisonment of Chesea Manning. He offered to allow himself to be extradited if Manning was freed. That did not happen. Four more months of continued torture does not equate to genuine clemency.

Online, Assange's supporters have expressed concerns that Assange is being set up for a trap, pushed into walking out of the Ecuadorian Embassy, only to be executed under the Espionage Act while some new excuse is created to not release Manning. There also exists confusion, however. The mainstream media has left many Americans with the false impression that Manning is being pardoned or immediately released. These misleading reports, similar to other recent mainstream stories, has the effect of misleading the public. Perhaps, the best legacy Obama can hope for at this point is one the public is misled into believing.

While Obama has prosecuted more whistleblowers than any prior President, no whistleblowers were among those he has chosen to pardon so far. In addition to Chelsea Manning, Edward Snowden, and Julian Assange, Obama also snubbed political prisoners Mumia Abu Jamal and Leonard Peltier

Manning's continued imprisonment and torture serve as continued revenge for his alleged revelations of the killing of civilians by the U.S. military in Iraq. Julian Assange's Wikileaks released the Collateral Murder expose infuriating the Obama Administration, through the events in the footage took place during the George W. Bush Administration. In reaction, the Justice Department under Obama sought an indictment of Assange under the 1917 Espionage Act (carrying the death penalty) for the release of Collateral Murder. Assange's supporters fear that the expected May release of Manning may be a trap, ready to spring on Assange if he gives himself up, a trap that could put both the whistleblower and the journalist in body bags.

Obama's legacy has turned into a disaster from a historical standpoint. Under the Obama Administration, indefinite detention of American citizens was legalized, assassination of American citizens was legalized and Habeas Corpus was unconstitutionally set aside. Obama is the first American President to be at war every single day of his Administration. Drone bombs have been dropping, mostly on civilians, an average of every 20 minutes Obama has been in office. Obama's health care plan has essentially been eliminated by Congress. Obama has nothing positive to show for his Presidency. Unless Obama ups the date of Manning's release, Manning's freedom, if it happens, will come under the Trump Administration and be part of Trump's legacy.

Obama has two days to create a positive legacy. It would make a significant difference if Obama were to immediately release Manning while Obama is still President or if Obama were to pardon Julian Assange, Edward Snowden, Mumia Abu Jamal, Kevin Cooper (a man on death row known to be innocent) and Leonard Peltier.

Polls show that most Americans consider Chelsea Manning, Edward Snowden and Julian Assange to be heroes. A large segment of Obama's political party believes Manning and Snowden deserve Presidential Medals of Freedom for the sacrifices they have made on behalf of the people of the United States. Julian Assange won the people's poll for Time Magazine Person of the Year. Millions of Americans have signed various petitions and requests calling for Chelsea Manning to be pardoned. Similar popular petitions have called for the pardoning of Mumia Abu Jamal and Leonard Peltier. The most recent petition calling for the pardoning of Edward Snowden has accumulated more than a million signatures. The temporary praise over the confusion about Manning's release date will disappear on January 20, 2017 if Manning is still in a military prison as Trump is sworn in. Regardless of his other faults, it is widely believed that Obama would receive a great deal of praise from people who have turned their backs on him if the above-mentioned individuals walked free before the end of Obama's Administration.

---