Bernie Speaks to Standing Room Only Crowd as Public Calls for Arrest of Hillary (Full Video of Speech)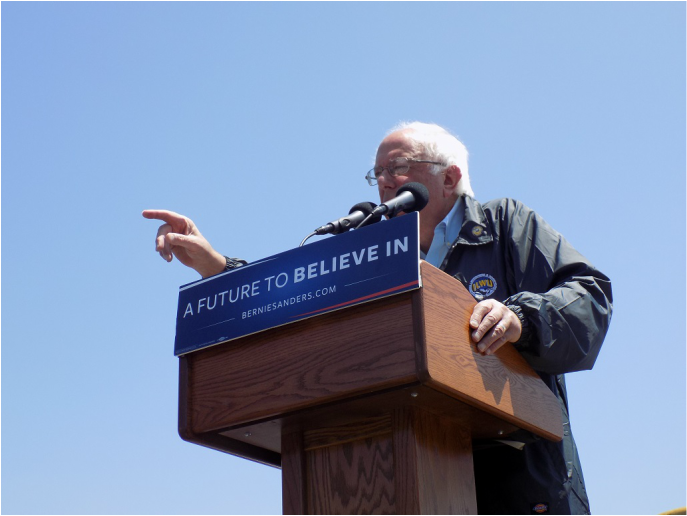 May 27, 2016. San Pedro, CA. The line to see Bernie Sanders at his Los Angeles Harbor rally stretched for 1.5 miles from the entrance gate to the Vincent Thomas Bridge.

The line had begun forming in the early morning, with people and children waiting hours for the 11 A.M. event that was held on behalf of the International Longshore and Warehouse Union and National Nurses, United. Leaders from other unions, including Patrick Kelly from the Teamsters, also came. Though the event, held next to the Los Angeles Maritime Museum. was only publicized in private emails, word spread and the public showed up in large numbers.
---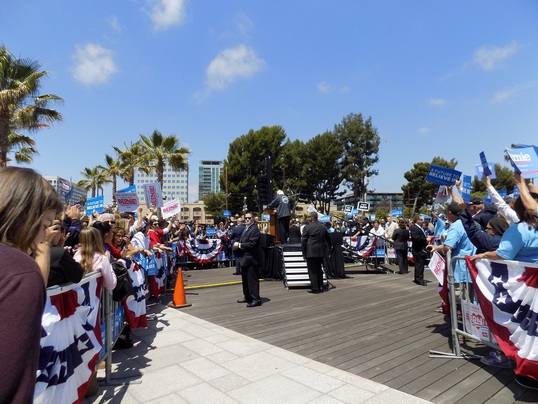 The crowd was not just eager but enthusiastic and hopeful. Many in the crowd believed he was the one leader who could and would save the country from imminent disaster. Several of the older members of the crowd said that Bernie was the leader they been waiting their whole lives to elect. Many called Bernie's election, a "Once in a lifetime opportunity." Children were also excited. One man compared having his children see Bernie to his experience of seeing John Kennedy as a child. One thing is clear from the comments and reactions of the crowds. Bernie has given hope to people of all ages who had come to believe the political system in the United States had become hopelessly corrupt.
---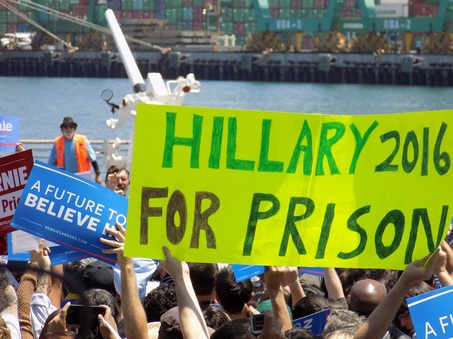 Most people interviewed had heard of the crushing Inspector General's report that confirmed Hillary Clinton had repeatedly lied, covered-up and broken regulations regarding her private email server and her emails.

The Sanders campaign wants the public to focus on the issues rather than a possibly upcoming indictment of his Democratic opponent. Volunteers and staff had been told not to speak of the Inspector General's report. Newsmen and people attending the rally were widely discussing the report. Some said they were surprised Clinton was still in the race.

Many legal experts believe that the only thing standing between Clinton and an indictment is the believed obstruction of her prosecution by President Barack Obama and by U. S. Attorney General Loretta Lynch, who previously worked for a law firm that was employed by the Clintons. The public widely believes that the main legacy by which Obama and Lynch will be remembered is the obstruction of the prosecution of a possible felon who may have recklessly endangered the military and the American public for her own interests.

All crowd members interviewed at the rally said there would be no uniting behind Clinton. Many used terms like "insane" and "ridiculous" to describe Democratic National Committee's expectations that Democrats would consider uniting behind a possible criminal who has reportedly disenfranchised millions of Americans in addition to other wrong-doings. A banner in the crowd that drew cheers from people waiting to see Sanders speak was one that reading, "HILLARY 2016 FOR PRISON."
---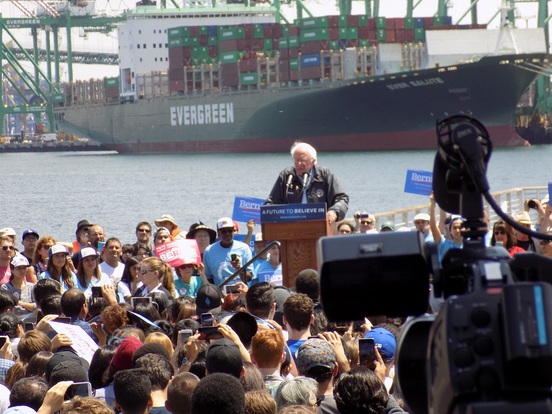 Bernie spoke of his plans to tackle the key issues confronting Americans, including: eliminating student debt and making sure all Americans can get a college education (regardless of income), guaranteeing workers a livable wage, replacing the health care plan that leaves millions uninsured with Medicare for All, reigning in Wall Street's greed and pharmaceutical corporate greed, bringing jobs home and creating new jobs, protecting the environment and taking action to stop climate change, bringing back healthy food and water, ending mass incarceration, fixing the broken criminal justice system, demilitarizing police departments, ending homelessness, creating a moral economy, abolishing poverty, expanding the middle class and bringing back the American dream to all Americans.

Bernie pointed out that we are spending 80 billion per year to lock up 2.2 million Americans. Bernie called America's mass incarceration an international embarrassment. A larger percentage of Americans are imprisoned than in any country now or in previous times. Though he didn't mention it, his opponent has been heavily financed by the private mass incarceration industry.
---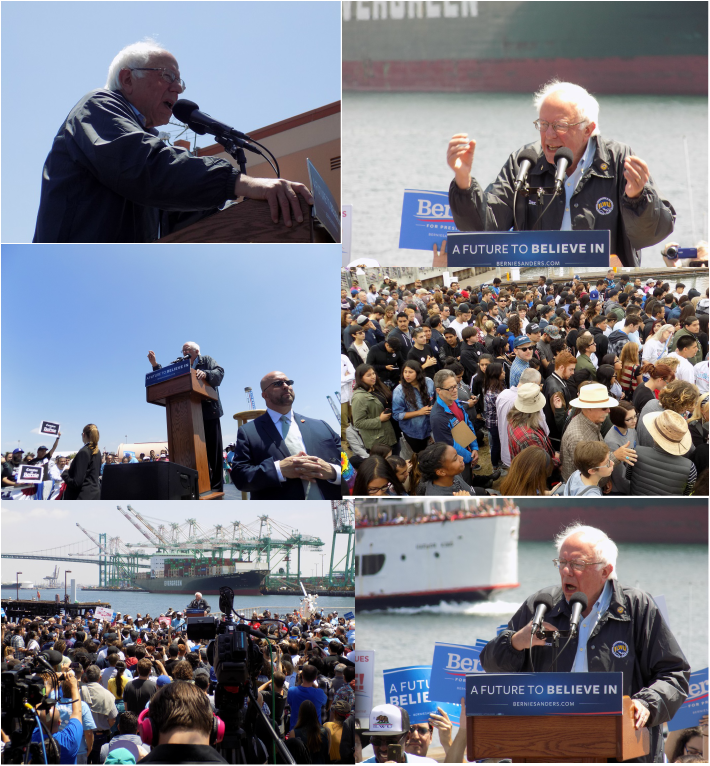 Bernie expressed his deep concern over the living situation of the homeless. He spoke of his personal dismay over seeing people having to sleep out on the sidewalk in San Francisco when he visited the city a couple of weeks ago. He spoke of children going hungry in the United States, of people in poorer cities having lower lifespans than in other places, of poisoned water in more American cities than Flint.

Bernie talked about the impact of poverty on health and longevity. He recalled visiting a Native American reservation where the average life expectancy of 58 years. He noted that this is the wealthiest nation in the history of the word and there is no excuse for 47 million people living in poverty and for American workers having to work two or three jobs just to take care of their families and for women earing 79 cents on every dollar paid to men. (An interesting note is that Hillary Clinton has a history of paying women 72 cents on the dollar paid to men.) Bernie noted that, in the United States, the top 1% makes more than the bottom 90% combined. He stated,
---
"Brothers and sisters, from the bottom of my heart, I tell you it is too late for establishment politics and establishment economics. We need a political revolution."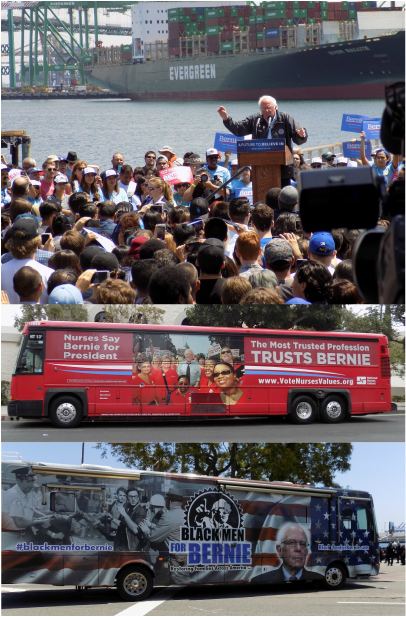 Bernie's speech drew frequent enthusiastic cheers from the crowd. Those having seats regularly rose in standing ovations to cheer Bernie's various positions. Several of the Union leaders, including Malinda Markowitz (President of the California Nurses Association and Vice President of the National Nurses United, one of the fist unions to endorse Bernie Sanders for President) spoke in support of Bernie. Ray Familathe, Vice President of the International Longshore and Warehouse Union, introduced the man the crowd felt certain would be the next President of the United States. Union members at the rally pointed out that when members have been allowed to vote on a union endorsement for President, the union endorses Bernie and that when members are not allowed to vote on the endorsement, the endorsement goes the other way. Many unions, including the ILWU, the Postal Workers, the Communication Workers of America, the National Nurses and the others have endorsed Bernie Sanders for President.

Among those present were nurses who had traveled across the country on a "Nurses Say Bernie for President" bus to let people know that, "The Most Trusted Profession Trusts Bernie." Bernie has called for Medicare for All, a plan that would have no effect the taxes of most Americans but would save them hundreds of dollars monthly in premiums. With millions of Americans being uninsured, it is expected to bring American health care up to a standard enjoyed by many nations around the world.

Also present were travelers on the "Black Men for Bernie" Bus. Bernie marched with Martin Luther King, Jr., while his opponent opposed all the reforms King marched to bring about. One of the African-American males at the rally said that the more educated and informed African-Americans are backing Bernie and that he was ashamed that a few of the African-American leaders had taken bribes of power or prestige to back Bernie's opponent.
---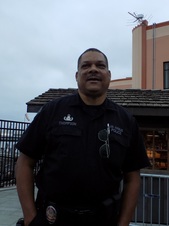 to People from all walks of life were present. One hero assisting with the event was Don Thompson (pictured to the left), a member of the LAPD bomb squad, who recently received the Presidential Medal of Valor for risking his life to pull a man from a burning car.

Bernie reiterated his comments that the average police officer is honest and hard-working. He made it clear that it is only a small percentage that are breaking the law. He continues to call for law-breaking officers to be held accountable.

Reaching out to the Clinton campaign, the staff at the event provided a representative from "Correcting the Record" (the Clinton PAC that reportedly paid $1,000,000 to online trolls who closed down seven Sanders supporting Facebook pages by posting child pornography on those pages) who promised to behave himself with the prime filming location on the press risers.
---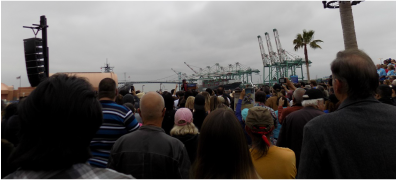 After greeting people in the crowd, Bernie rushed off to a newly arranged event to see people concerned about one of Los Angeles's environmental hazards. Though Bernie's many rallies have been attended by large crowds around California in the last week and a half, millions of his supporters who have not yet been able to see him have requested events in their areas. Therefore, each day, additional events have been added to his calendar. As the events generally aren't publicized, people have to keep checking Bernie's event schedule in order to learn about them. Currently, Bernie Sanders is headed northward and will be in Oakland on May 29th.

---