Did Clinton Self-Destruct in the Third Debate? Does Anybody Care?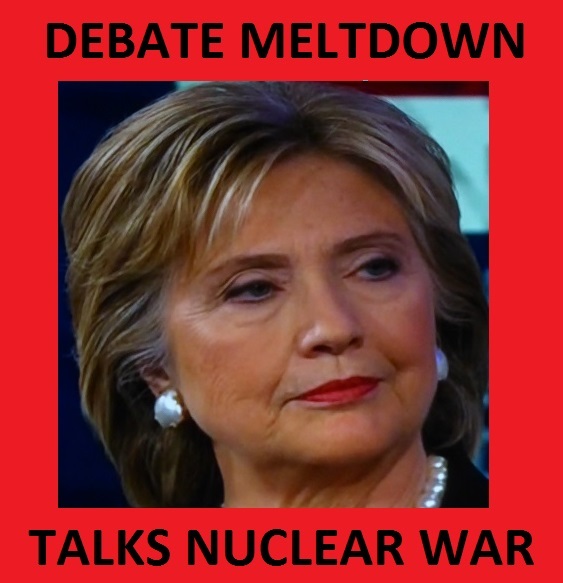 October 19, 2016. Las Vegas, Nevada.
During the third debate, after making vociferous, unfounded, lengthy and out of turn attacks on Vladimir Putin and Russia, Hillary Clinton frightened viewers in initiating nuclear war--- as in World War III and the the termination of all life on Planet Earth. Though she tried to imply that Donald Trump couldn't be trusted with the nuclear weapons, he currently and surprisingly has the support of military leaders while Clinton is the only candidate who has threatened war with Russia. Oddly out of character and sounding like the voice of reason, Donald Trump pointed out that Russia had 1800 nuclear missiles and expressed a desire to use diplomacy to avoid nuclear war. This was a stark contrast to Clinton's extensive angry attacks on Russia during the debate. Most viewers of the third debate are now much more concerned than ever that Hillary Clinton could, in fact, start World War III.
Oddly, the mass media (which confirmed DNC emails have credited as being an extension of Clinton's campaign) have downplayed Clinton's debate meltdown during which it was unclear whether Vladimir Putin or Donald Trump was running against her for President. Despite Hilary's and her news pundits' blaming of the Russians for the releases from Wikileaks regarding the DNC and her campaign, various NSA whistleblowers and government insiders have said that the leaks appear to be an inside job (as in inside the U.S intelligence community and the DNC.) Murdered DNC staffer Seth Rich is believed to have been the source of at least some of the DNC leaks.
​ The DNC hack was not done by Russia but by US Intelligence
according to f
ormer NSA staffer and well-known whistleblower, William Binney. Other NSA informers have expressed their belief
that the leaks came from inside the NSA, itself.
Tyler Durden
, a former NSA employer stated:
"My colleagues and I are fairly certain that this was no hack, or group for that matter."
Only those repeating the unsubstantiated Clinton campaign claims are attributing leaks to the Russians. In contrast, Donald Trump is not pointing fingers without evidence, another surprisingly sound and responsible move, a contrast to his reported reputation for rashness.
Hillary again made a seemingly disingenuous attempt to rationalize away her Wall Street comments supporting free trade and open borders, instead of owning up to what she had informed her financiers.
With respect to a discussion of live-birth or partial-birth abortions, Hillary equated terminating the lives of babies post-birth or in the process of being born to first term abortions. In live-birth and partial-birth abortions, when babies sought to be aborted survive or are surviving their births, they are put down or killed after birth or while in the process of coming through the birth canal. Most pro-choice women support abortions only as long as the fetus is unborn or not in the process of being born. Killing an otherwise viable baby on it's way out of the mother is considered acceptable by partial-birth advocates. Like other questions, Hillary tended to compare apples to oranges to defend her positions.
While Donald Trump remained in control and calm during the debate, Clinton frequently seemed to lose her cool, interrupt and make wild accusations, often unfounded, against people not in the room.
Of the two candidates, Trump spent the most time standing up for the rights of women and minorities in the third debate. He pointed out that Hillary Clinton had taken vast sums of money from governments that kill, torture and oppress women . He referenced the funds for Haitian relief that had been reportedly misappropriated by the Clinton Foundation and the anger of the Haitian people over the loss of funds that were supposed to go to that Haitian relief which never came. Hillary Clinton falsely stated that 90% of the Clinton Foundation money goes to charity. Reports indicate the correct figure is less than 10%. Over a thousand Haitian people died in the latest hurricane because money that was supposed to go to building Haitians shelter from such storms, instead appear to have been misappropriated by the Clinton Foundation.
The attending audience that attempted to applaud was ordered silenced by the host after Donald Trump refused to say he would accept the outcome of the general election no matter what. In this refusal, he has the full support of many Bernie Sanders supporters, who were angry Sanders did not stand up against the rigging of the primaries that was seemingly done by Hillary Clinton and her campaign. Polls show that Americans will not accept a President who is not legitimately elected and want the candidates to stand up against rigging. In 2000 and 2004, voters tried to convince Al Gore and John Kerry to refuse to accept the rigged election results. In 2001, Gore asked Congress not to oppose Bush's Florida electors and, in 2005, Kerry supported the giving of Ohio's electors to George W. Bush. The DNC and the news media have been trying to desensitize the public to election fraud and make it acceptable but they have failed in this. Voters have launched petitions and held rallies and protests to demand that fraudulent election results be thrown out. Trump's refusal to accept fraudulent election results is expected to gain him additional support from voters in the Bernie Sanders camp
Though incorrect about certain facts, such as the source of the email leaks, debate host Chris Wallace was the most neutral and fair of the debate hosts so far in the various debates in the primary and general election season. However, due to the elimination of two Presidential candidates from the debate stage, that fairness was limited.
While Trump may have come across as more Presidential than Hillary Clinton in the third debate, a candidate not on the debate stage was seen as more Presidential than either the Democratic or the Republican nominee by those who viewed her comments regarding the debate. That candidate is Jill Stein, who also wants to avoid World War III. Her plan is also one of diplomacy. She plans a "peace offensive," involving an arms embargo and freezing funds to allies who support terrorism.
Jill also has a plan for publicly funded college and a way to provide the money for that plan. Her economic plan will allow the Social Security Trust Fund to once more become solvent. Like most other nations in the Western world, Jill has a plan that would make universal health care more affordable and cover more conditions than current health insurance. Thursday morning (October 20, 2016) Amy Goodman has promised to allow Jill Stein to respond to the same questions that were put to Trump and Clinton in the third debate.
Hillary's debate meltdown is not expected to make a major difference as the Clinton-supporting news media is not talking about it. A recent survey published earlier by the
Justice Gazette,
shows that, of the four top candidates, the supporters of Hillary Clinton are the least informed about current events and about the positions of their candidate. Most Clinton supporters do not care where she stands on the issues or what she plans to do once in office. That survey showed that their main concern was getting a woman into the White House. Instead of looking for a more qualified woman, Clinton supporters are only looking to the DNC for a female candidate.
Most polls do not ask about Jill Stein but, instead attribute a low percentage to her. If the pollsters don't ask, how do they know what is the correct percentage to attribute to Jill? The general election results may turn out to be a surprise or perhaps Trump and former Bernie Sanders supporters are correct in their belief that Hillary Clinton has already rigged the general election.
---